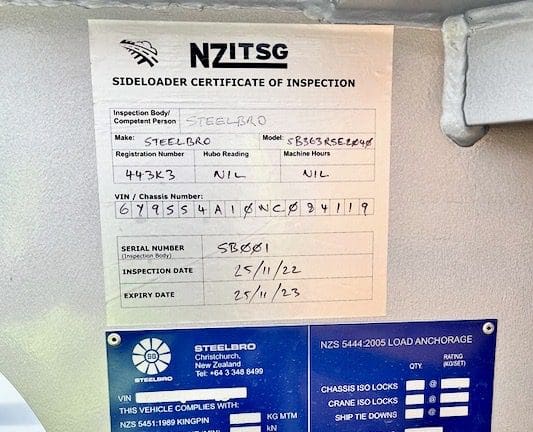 The New Zealand transport industry has taken a positive step towards a safer future for the New Zealand sideloader operation industry this year, with the release of 'The Good Practice Guide: Safe Operation and Maintenance of Sideloaders' (TRANSPORTtalk, 2022).  
This is fantastic news for transport enterprises and operators, as it will establish a guide for best practice safety, maintaining standards within the industry and reducing risks for stakeholders (TRANSPORTtalk, 2022). The Good Practice Guide (TGPG) has been submitted for endorsement by WorkSafe, which has a key interest in improving the health and safety of New Zealanders at work (WorkSafe New Zealand, 2020). 
In conjunction with The NZ Intermodal Transport Safety Group (NZITSG) Steelbro are committed to implementing TGPG into our own best practices. As such, every newly released Steelbro Sidelifter will go through yearly testing, in accordance with TGPG. This will result in each unit being approved and stamped with certification, upon passing inspection. 
Key points from The Good Practice Guide include: 
Yearly certification of sideloaders, including chains and lugs, carried out by approved service agents and a certification label applied to each unit (similar to a COF).

Operators will receive training on principles of the sideloader they will be operating.  

Operators are recommended to hold NZQA Unit Standard 17679 certification. 

Complying with the Good Practice guidelines can help PCBUs and workers meet their duties under the HSWA 2015. Compliant operators are better positioned to prevent an incident. 
Safety and excellence are a high priority for the Steelbro brand and organisation. Therefore, we are ecstatic that our first Sidelifter to successfully pass inspection and receive its NZITSG certification label, was released in November 2022. Thus, paving the way for an even safer future for the operators of Steelbro Sidelifters.  
References 
TRANSPORTtalk. (2022, December 1). Major step forward for sideloader safety. TRANSPORTtalk: Truck and Industry Equipment News. https://transporttalk.co.nz/news/major-step-forward-for-sideloader-safety?fbclid=IwAR3XosZ1iD2oh-DEmkDK0ang-dm9rCdC44tUWAHfdv6IXg2ttVzHFMunxEU 
WorkSafe New Zealand. (2020, November 6). Role and responsibilities. WorkSafe. https://www.worksafe.govt.nz/about-us/who-we-are/role-and-responsibilities/ 
read more