The Steelbro engineering team have invested a lot of design time to achieve the best possible geometry for the SB450 crane. The demanding requirements brought on by the various tasks a sidelifter must be capable of completing means that the position of the arm pivot points and the actual arm length had to be optimised to ensure all of the tasks could be completed.
This is a challenging job as any small adjustment has a major effect on the final performance and often one small adjustment to improve one function has a large negative effect on another function.
The Steelbro team had to develop a geometry with a large outreach. This is a vital element as often it is difficult to position the trailer close to the container that is going to be lifted. Having the large outreach allows the operator to be able to pick up the container even though the trailer is some distance away.
This large outreach is also an important feature when performing a trailer to trailer transfer. A trailer to trailer transfer is when the sidelifter is used to load/unload a container onto or off from another trailer. During this process the companion trailer is parked as close as possible to the sidelifter and the container is then transferred. Having the large outreach allows extra distance between the companioning trailer and the sidelifter, making alignment much easier and avoiding collision damage.
Having the large horizontal outreach is great but the sidelifter also has to perform a double stack operation, A double stack is when the sidelifter is used to load/unload a container from on top of another container. During this function the container being moved has to be lifted very high to allow it to get above the lower container. The Steelbro optimised geometry achieves this feat very well and the container is capable of being double stack onto to the larger 9.6' container.
A further feature of the Steelbro SB450 is its low profile stowed position. The cranes stowed in a low profile helps avoid damage from foreign obstacles when in transport and also helps avoid damage and contact with the container when being loaded by a straddle carrier.
Through relentless optimisation, the Steelbro team have developed the SB450 to achieve a large outreach of 3.9 metres whilst still being capable of performing a double stacking function on a 9.6ft container and keeping a low profile making it the ideal product.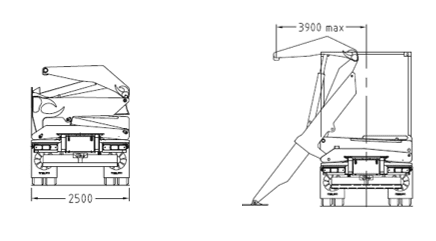 First published in Trailer Tech – Asian Trucker Malaysia Issue 41