Steelbro fascinating history dates back to 1878 when brothers Joseph and David Steel started the Steel Bros. Coach factory with just £5 capital each.
In 1890 Steel Bros. took their first tentative step into producing motor carriages. By 1930, the Company was in full swing designing and building motor bodies. During the war years grenade castings, concrete mixers, landing craft and dummy aircraft were produced.
Steel Bros. grew to become New Zealand's leading motor body building and engineering company in the 1950s and 60s, later introducing the Hiab truck-mounted crane into New Zealand.
As well as building truck bodies, Steel Bros. was also assembling Toyota cars by the 1970s. The Company even built the Lotus sports car at this time.
The 1980s saw the wind down of its vehicle assembly and motor body building business. Steelbro, as the Company was now known, decided to concentrate on developing the concept of container transportation – the revolutionary sidelifter was born.
In 2015 Steelbro was acquired by Howard Porter Pty Ltd. Western Australian based Howard Porter origins were similar to Steelbro's, a family based pioneering coachbuilder in Australia with origins dating back to 1936. Today they are a manufacturer of road transport equipment with a strong focus on innovation and quality products. Since acquiring the Steelbro business, Howard Porter has provided substantial investment in quality manufacturing, new innovation and market development.
Things have come a long way since the early days of horse drawn wagons, coaches, gigs and drays.
"The Steelbro Head Office and Design Centre are based in Christchurch and continue our long association with the region – but we're internationally focused and always looking for opportunities for growth", says Roy Lombardi, Managing Director. "It's important to be innovative and responsive to market requirements – we have provided imaginative and successful solutions to more than 100 countries."
The Christchurch office is the centre for design excellence, after sales support and marketing.
"The sidelifter you see today is the result of ongoing consultation and development between our design team, customers, suppliers and our design and manufacturing centres in China and Australia," says Roy. "We regularly interact with customers internationally and work with local transport operators who test our latest innovations until we are satisfied the sidelifter meets the right performance, reliability and durability standards. The rigorous development process has enabled Steelbro to produce reliable products that stand the test of time – much like the organisation itself."
The company is now a truly international company with offices in NZ, Australia, Malaysia, Brazil and Sweden and an extensive growing network of distributors and agents.
New Product Development at Steelbro is focused on delivering increased speed of operation and low manufacturing costs, plus safety and reliability. Ultimately delivering a cost effective container handling solution for our customers in all markets. Today's portfolio contains many variants optimised for sidelifter market applications such as the Gooseneck model, suited for markets with low hanging power lines and tunnels which restrict load height, and the trombone, an extendable/retractable chassis, ideal for narrow roads but with extra capacity for large containers.
"We are honoured to be celebrating our 140th anniversary this year," says Roy – "It's an extraordinary milestone. We are extremely proud to continue growing with the same values, commitment, and vision that led Joseph and David Steel to establish the company. From the early days, we have continued to develop and diversify. The company has experienced the highs and lows of the business cycle and has demonstrated resilience to prosper over 140 years. We will always remain very proud of both our heritage and our achievements."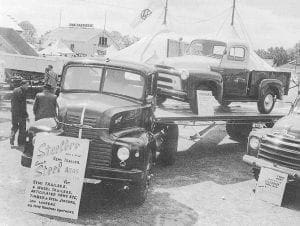 Then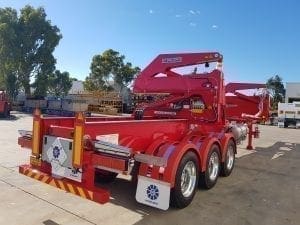 Now