SB121 Sidelifter
12 tonne Lifting Capacity sidelifters
The SB121 Standard Sidelifter provides an economical solution for operators who need to handle empty and low weight containers.

Capable of shifting loads up to 12 tonnes, this "triple crane" self loading trailer has three cranes – one each at the front, middle and rear. With middle and rear cranes able to stack down, the SB121 can adapt to carry either one or two 20ft containers or one 40ft container.

Features

12 tonne lifting capacity.
Maximum outreach 3.6 m.
Handles 20', 40' and 2×20' containers.
Low tare weight for improved fuel consumption.
3 high tensile, low stowing cranes enable a variety of carrying configurations.
So many applications
Road, Rail, Military Cargo, Mining, Forestry, Barges, Building and much much more.
The Sidelifter is the most versatile and cost effective equipment for loading containers on the ground. There is no other way of delivering and retrieving containers that matches the accuracy and precision of Sidelifter container loading technology.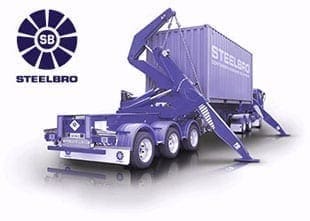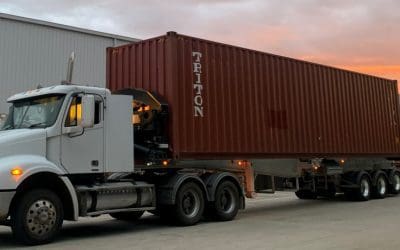 For over 140 years, Steelbro has maintained an international reputation for superior design and innovative manufacturing.  The Engineers & Design team at Steelbro's New Zealand base in Christchurch are constantly striving for excellence in design. This positive...
read more