Quality, durability and reliability are hallmarks of the Steelbro sidelifter brand. This would not be possible without the strong partnerships that Steelbro has developed. International diesel engine manufacturer Kubota is one of these partners.
The standard configuration of the sidelifter has not always included an independent diesel engine. In the 1990s when Steelbro was first servicing the Malaysian market, the sidelifter operated through "power take off" (PTO) from the prime mover. In these early days, a special hydraulic kit for each truck including a PTO on the gearbox was required to operate the sidelifter hydraulics.
In a move towards independent operation, having a separate Steelbro engineered power pack system with Kubota engine became a more popular choice.
Transport operators in Malaysia saw the benefits of investing in a sidelifter equipped with its own autonomous power pack. The power pack with Kubota engine allowed the sidelifter to be operated with any truck without any specific hydraulic fittings, and gave more flexibility for operators with a fleet of trucks. The independent Kubota engine also significantly reduced running costs.
When it comes to independent power, Kubota is still the world's number-one supplier of diesel engines and the preferred power source for many types of equipment. Kubota is a global brand renowned for its high performing and reliable engines. Their diesel engines have a reputation for proven performance, reliability, durability and back up.
Like Steelbro, Kubota has a long history. With over 125 years technical experience and continuous research, Kubota is a veteran in its field. Because of this, the two organisations have had a successful partnership than has lasted well over two decades.
Proven Reliability
A Steelbro sidelifter demands reliable starting performance and fast load pick up multiple times each day. It needs to be able to deploy the sidelifter stabilisers for rapid loading and unloading of a container. Steelbro Engineering Manager, Mike Parker explains, "All sidelifter models have been designed to meet these tough requirements. We needed a power pack that could match this demand and be ready to perform at all times. We found the Kubota V2403-M model fit the bill." With a one piece tunnel block construction, low piston speed and low piston pressure, the Kubota engine promises great reliability and long service life.
Lightweight and Fuel-efficient
In the sidelifter operation, a light tare weight is important as it allows the operator to carry greater payload which ultimately increases profit margins.
"The Kubota engine is lighter than the alternatives with a dry weight of 184 kg," says Parker. "This fits in well with the Steelbro lightweight requirements. It's also more efficient with lower running costs when you compare it to other engines. Fuel consumption is just 9.5 litres per hour compared to 11.43 litres per hour for alternatives, making it cheaper to run and better for the environment as well."
Well-supported Engine Brand
Kubota, like Steelbro has a global commitment to stable supply and excellent after sales support through its world-wide service network. Kubota engine parts are readily available which means less time off the road during servicing. A straightforward engine design means that units are considered easy to service. There are no complicated controls, exhaust systems or extra fuel additives required.
Better for the environment
The Kubota byline "For Earth. For Life" describes the company's strong commitment to the environment. Its efficient engine uses less diesel and produces fewer carbon emissions. It is estimated that it produces 9 tonnes of carbon emissions less per year than other similar engines. Kubota engines are compliant with all the latest pollution regulations (U.S EPA Interim Tier 4 and EU Stage IIIA) and the company enforces stringent quality and emission test standards to create powerful, clean emission engines.
Clean and Quiet
Steelbro appreciates that the sidelifter operator is exposed to the sound and emissions of an engine during use. As a result, Steelbro places a major focus on noise and emission reduction to minimise the impact on the operator. Again, the Kubota engine is a good fit. Their engines run quietly thanks to a superb combustion system. Airflow, combustion chamber and piston recess are optimised to provide 50% lower particulate (PM) level. Noise levels during load and no-load operations are kept to a minimum with Kubota's distinctive low-noise diesel engine development technology.
The Kubota engine supports Steelbro's commitment to use only the very best quality materials and components. Steelbro looks forward to many more years supplying sidelifters that are powered by the best: Kubota Engines.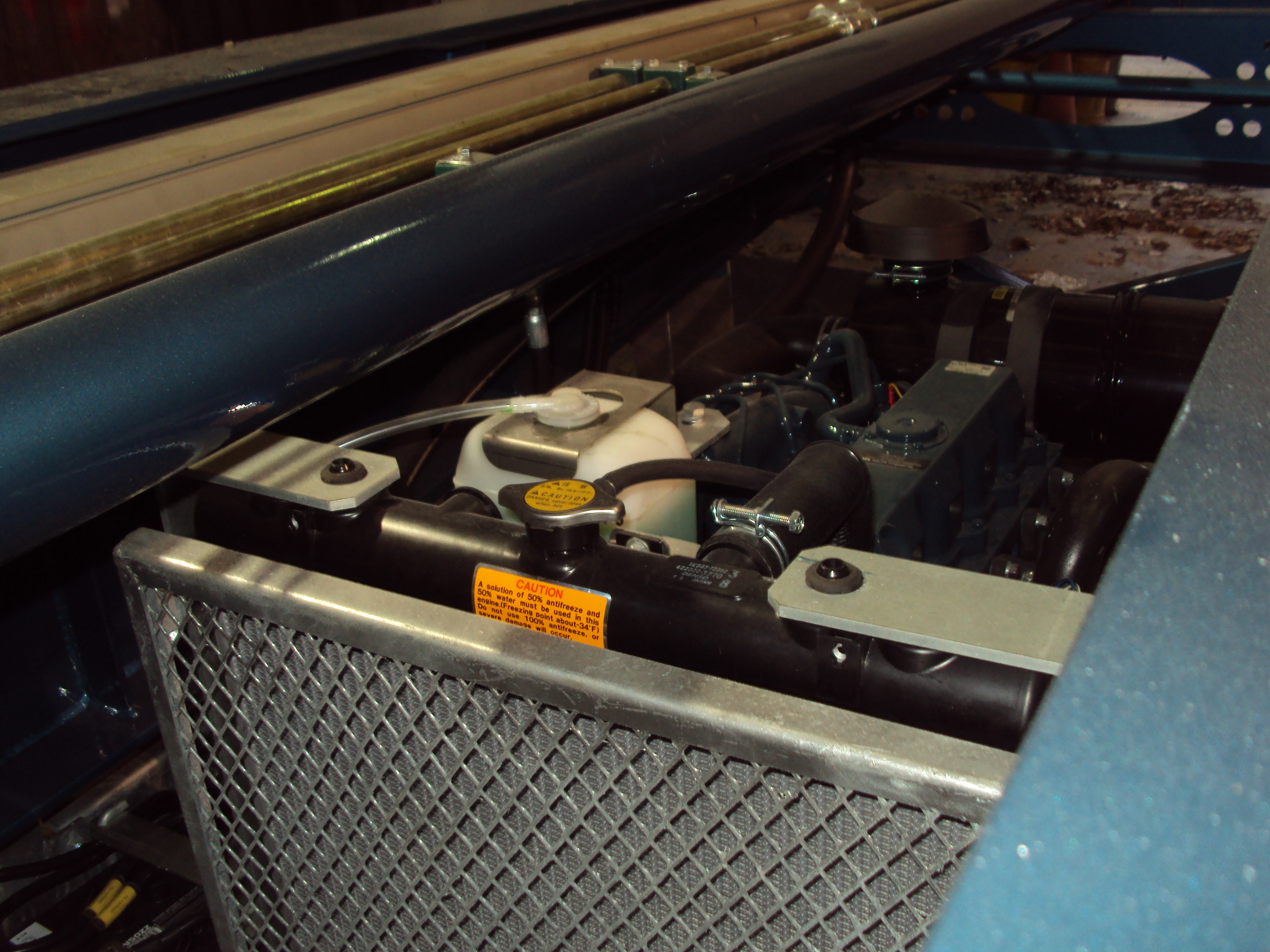 First published in Asian Trucker Malaysia – Tech Talk