The STEELBRO Rail Underbelly Leg is an optional stabiliser for the SB450 Sidelifter. It is designed to enable the lifting of heavy containers to, and from, rail wagons where space is limited.

Choose the sidelifter leg configuration to suit your operation

Features

The Rail Underbelly Leg is installed at the rear in addition to a normal stabiliser providing extra flexibility for customers
Handles single rear 20', 2 x 20', 40' containers
Can perform container lifts to and from the ground, trailer transfer and double stack
The Rail Underbelly Leg is deployed and controlled via the remote control (cable or radio)
The Rail Underbelly Leg is fitted with Stabiliser Interlock system to prevent lifting without the stabiliser being deployed
The foot is designed to easily fit between the rail wagon and track with the unique spherical joint allowing the foot to glide over the track and into position
The Bandy Leg is an optional stabiliser for the SB450 which is designed for use with transferring from and to rail wagons.

Choose the sidelifter leg configuration to suit your operation.

Features

The Bandy Leg can be installed at both the front and rear or at front only in conjunction with another Steelbro stabliser at rear.
The Bandy Leg can be used retracted or can be extended to reach under rail wagon.
Handles single rear 20', 2 x 20', 40' containers
Can perform container lifts to and from the ground, trailer transfer and double stack
Control Systems
Control options for smarter, safer sidelifters
Power Pack
Choose how to power your sidelifter, PTO or Powerpack
Toplift Frame
Lifts from top, great when bottom pockets are inaccessible
So many applications
Road, Rail, Military Cargo, Mining, Forestry, Barges, Building and much much more.
The Sidelifter is the most versatile and cost effective equipment for loading containers on the ground. There is no other way of delivering and retrieving containers that matches the accuracy and precision of Sidelifter container loading technology.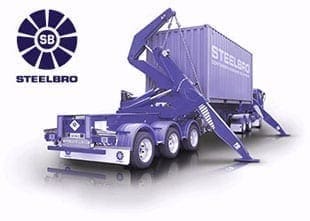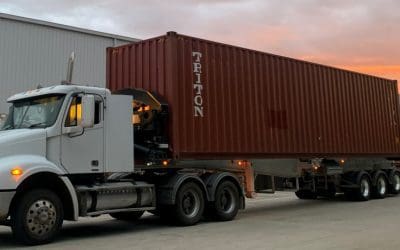 For over 140 years, Steelbro has maintained an international reputation for superior design and innovative manufacturing.  The Engineers & Design team at Steelbro's New Zealand base in Christchurch are constantly striving for excellence in design. This positive...
read more