Highly flexible and efficient, STEELBRO Sidelifters are ideal for all road transfer applications.
Entirely self-contained, Sidelifters can not only load and unload their own containers with speed and precision, they can also act as loaders for companion trailers. That means a single STEELBRO Sidelifter can handle a whole convoy of containers on its own – making it an incredibly versatile and cost-effective asset for transport operators.
Fully loaded containers can be transferred without the need for additional lifting machinery.
Containers can be transferred anywhere that is safe and convenient.
Intermodal adaptability – Sidelifters can transfer containers to other trailers, trucks and trains, or onto the ground.
Provides a single lifting solution for truck convoys, which are often required in developing countries.
Container handling including loading and unloading can take place on the ground, reducing risk of injury.
Wait time for lifting machinery is eliminated, as is the need for expensive ground preparation.
Customers can unpack full containers in their own time, leaving the Sidelifter driver/operator free to attend to the next job.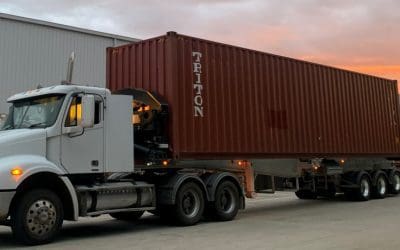 For over 140 years, Steelbro has maintained an international reputation for superior design and innovative manufacturing.  The Engineers & Design team at Steelbro's New Zealand base in Christchurch are constantly striving for excellence in design. This positive...
read more