When working in rugged and remote environments, choosing the right equipment is essential. From the Australian outback to African territories, STEELBRO Sidelifters ensure mining operators are equipped with robust container transport tools that are up for the job. Sidelifter trailer loaders are utilised by mining operations during set up phase to deliver heavy equipment and portable buildings, as well as in an ongoing capacity for goods transportation around or to and from the site.
Ideal for hauling oversized equipment, with the ability to carry up to 45 tonnes in weight.
Able to work in any terrain without special infrastructure, including narrow access roads and difficult to negotiate areas.
Users can load and unload from the ground, reducing risk of injury.
Loading and unloading can be safely performed by a single operator, saving on labour costs.
Sidelifters can load and unload companion trailers, eliminating the need for independent heavy lifting equipment such as reachstackers or forklifts.
Mining applicationss include moving materials around site, transporting dump materials, relocating fuel tanks, machinery, portable buildings, mobile workshops and more.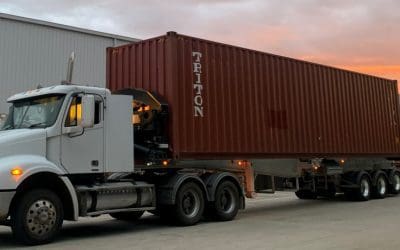 For over 140 years, Steelbro has maintained an international reputation for superior design and innovative manufacturing.  The Engineers & Design team at Steelbro's New Zealand base in Christchurch are constantly striving for excellence in design. This positive...
read more