Military and Defence Solutions
At work in over 100 countries worldwide, STEELBRO Sidelifters are an indispensable asset to modern military organisations. Sidelifters give military planners the ability to quickly and efficiently uplift, transport and then deposit any containerised material – including weaponry, supplies, food aid, small assault vehicles and even containerised portable buildings.
With over two decades of global military use, Sidelifters container trailers have gained an exceptional reputation for their versatility, durability and ease of operation.
Can transport modules varying from 20' to 48' in length and up to 45 tonnes in weight.
Ability to self-load and unload eliminates the need for forklifts or other heavy equipment.
Moves material quickly and safely in changing battlefield conditions.
Sidelifter arms can be folded so that it can be moved via air transport, in C130 Hercules capacity airplanes and above.
Can transport containerised portable buildings such as command centres, medical wards, decontamination wards, cookhouses, refrigerated cool-tainers, barracks, offices and supply stores.
ISO Flatrack capability offers multiple transport arrangements from heavy tank equipment to smaller breakdown vehicles.
Tough, robust and reliable, Sidelifters are capable of operating in the harshest of climates from the Arctic cold to desert heat.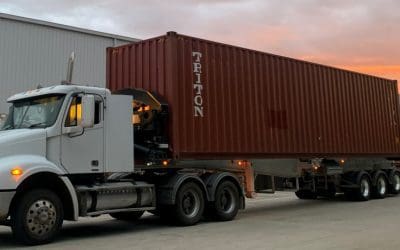 For over 140 years, Steelbro has maintained an international reputation for superior design and innovative manufacturing.  The Engineers & Design team at Steelbro's New Zealand base in Christchurch are constantly striving for excellence in design. This positive...
read more