With their inherently safe design, precision handling and proven performance, STEELBRO Sidelifters offer an optimal solution for those needing to transport chemicals, fuel tanks and other dangerous goods. Sidelifters can be "Dangerous Goods Certified" to meet the protocols of transport authorities around the world. Additional options such as a top lift frame for ISO tanks and SMARTlift warning system provide further safety and handling control for dangerous, combustable or fragile loads.
Proportional control ensures smooth and precise placement of tanks.
Optional top lift frame for ISO tanks enables tanks to be lifted from the top for closer placement.
Optional SMARTlift load monitoring system sounds an audible warning if a load is moved into an area where stability is compromised.
Delivery of hazardous goods can still be undertaken by a single driver-operator.
Ideal for the safe and efficient handling of fuel tanks, chemicals, ammunition, flammable substances, fireworks, compressed air, hazardous wastes and other dangerous goods.
Certified Sidelifters can still be used for non-hazardous loads, enabling seamless multi-purpose operation across a business.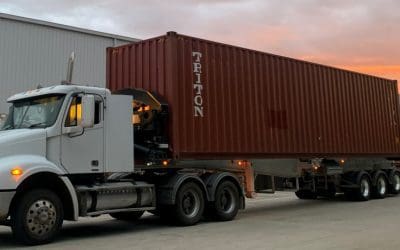 For over 140 years, Steelbro has maintained an international reputation for superior design and innovative manufacturing.  The Engineers & Design team at Steelbro's New Zealand base in Christchurch are constantly striving for excellence in design. This positive...
read more